Jesus At The Door is a colourful, cutting edge, Spirit lead approach to evangelism that equips everyday believers to win everyday people.
Our catchphrase "evangelism made easy" sums up perfectly what JAD is all about, we make evangelism easy for anyone that we train. Whether you're the believer of 54 years who has never led anyone to Christ or the international evangelist that travels the world, JAD's simple equipping card will enable you to partner with the Spirit and lead the lost to Christ.
JAD was birthed on the streets of Northern Ireland during a radical move of God that saw many thousands saved. The Holy Spirit has entrusted Scott to bring this method of evangelism to the church, and we have now seen people in over 30 nations trained and equipped to reap the harvest using Jesus At The Door.
Our Mission
Behold, I stand at the door and knock. If anyone hears my voice and opens the door,
I will come in to him and eat with him, and he with me.
Revelation 3:20 (ESV)
Jesus Knocking at the Door
Our Equipping Card is framed around a picture of Jesus knocking on a sinners heart on the front. And 9 imagery laden points broken into 4 zones on the back.
Black- Speaks of the state of a sinners heart when the door is closed. Red- Speaks of the redemptive Blood of Jesus. Gold- Speaks of the fire of Holy Spirit. Silver- Speaks of Holiness. Silver laid the foundation of the tabernacle in the Holy place
Teaching the Church to Catch
Jesus said in John 6:44 That no-one can come to Him unless the Father draws them.
The Father, through the Holy Spirit who blows like a mighty wind, is shaking the trees and drawing men and women to Himself.
Some apples will fall, some will move a little, and some won't move at all. All we have to do, is be there to catch.
We share, He shakes
As I went out onto the streets one day, the Holy Spirit said, "Scott, imagine people on the streets are apples on a tree. You share, then I'll shake."
That simple image was all I needed; it changed everything for me. 
It removed the pressure of feeling I had to know everything and convince everyone.
Become a Volunteer and join us!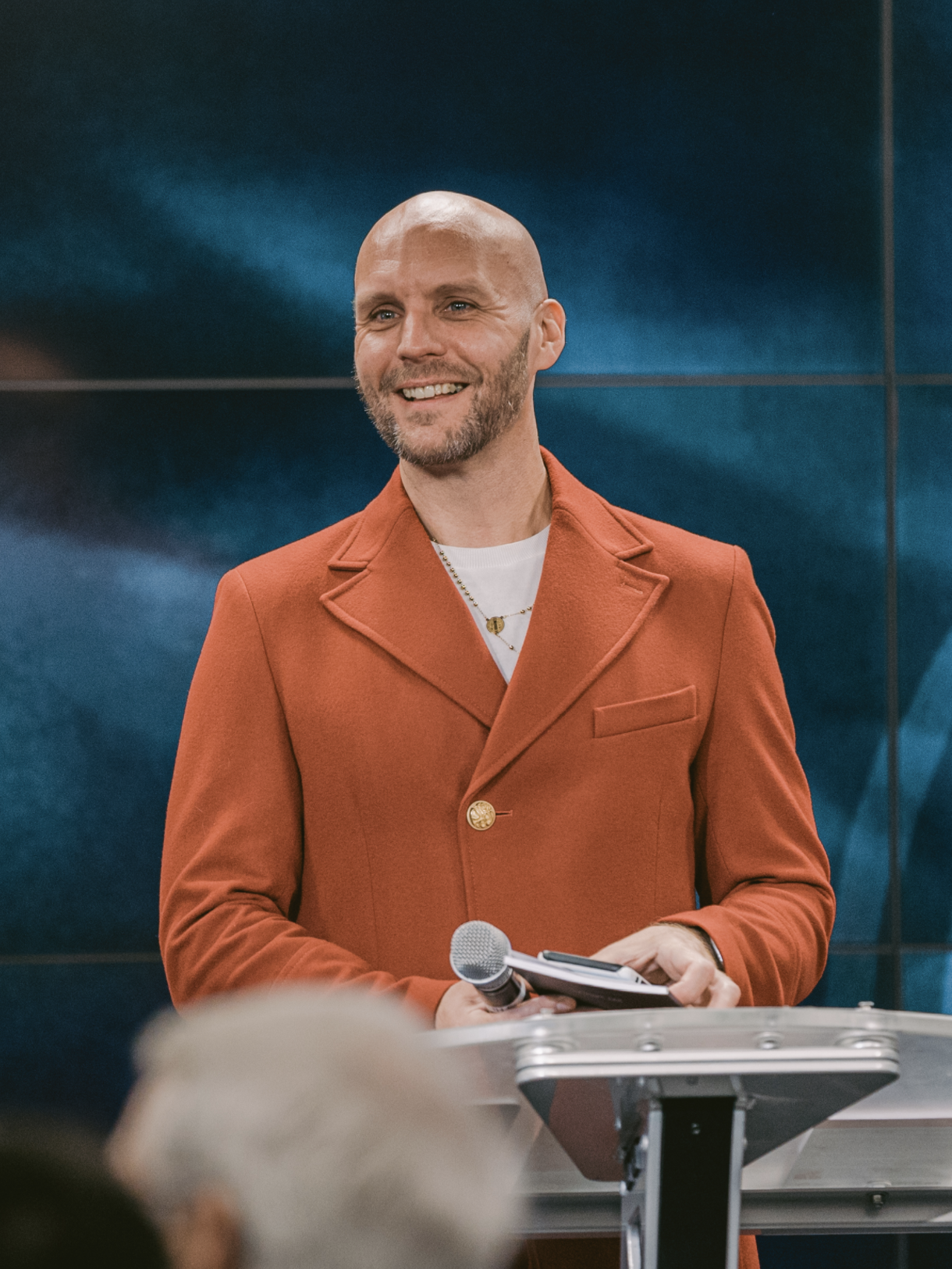 Scott McNamara
Founder
Scott McNamara is the founder of Jesus At The Door.
An evangelism movement that is experiencing exponential growth due to its all inclusive gospel centred approach. Providing everyday believers with a practical yet powerful way to lead people to Jesus.
Framed around 9 points and a picture this imagery laden gospel sharing takes about 2 minutes from introduction to salvation. Inviting the user to learn how to grow in Spirit led evangelism! Evangelism is partnership- and partnership is power!
The Holy Spirit is our partner.
Our desire is to awaken the sleeping giant of evangelism (the wider Church), and remind them that The Great Commission wasn't given to evangelists but to disciples. Everyone gets to play!
God has placed his favour on Scott and has entrusted him with the office of an evangelist. He travels the world equipping the body of Christ in how to bury their seasoned sowers mentality in favour of that of a relentless reaper.
Scott has featured in Christian Movie/Documentary Finger Of God 2, alongside bonafide Christian rockstar Korn guitarist- Brian Head Welch.
Scott is now Director of Evangelism at Pastor Daniel Kolendas local CfaN church expression – Nations Church, Orlando. Scott is a keynote speaker at:
• Annual CfaN Fire Conferences
•  International Speaker and Equipper  
• CfaN Bootcamp Teacher
Along with numerous Jesus at the Door training events around the world.