Neil
I was sexually abused as a child, I was kicked out of school at a young age for burning down the school canteen as I didn't like the dinners. I was a rebellious teenager with a lot of anger. I then became an alcoholic which was only enhanced by my life as a football hooligan. I found a family in that gang and a purpose.
I did not like people from other countries so much so I became part of fascist groups such as, the English Defence League (EDL), and the National Front.
My wife had met Scott when he approached her, my son and daughter in the town. They all began to attend his New Believer's group and Church. I thought he was brainwashing them. One evening Scott came to give them a ride to the group and I became enraged shouting, swearing, and threatening the lad who was in the car with Scott, as I thought he was staring at me. I sent Scott a text to apologize and he invited me to his group. I agreed to go along to see what happened there.
At the beginning the new people introduced themselves, I told them I don't really believe in God, football is my Church I'm just here to support my wife. However in front of 19 new believers squished into our living room the Holy Spirit broke into my heart.
Halfway through the group we entered into prayer time, and while everyone was praying and giving thanks I said 'Ok what's going on" , for the past 20 minutes my whole body has been on fire. When I try to fight it- it comes back stronger'!
Scott asked me to stand up and stopped the meeting and in front of everyone a 2-week old believer read the Jesus At The Door card to me. I don't really remember what happened but I gave my heart to Jesus that night and everything changed.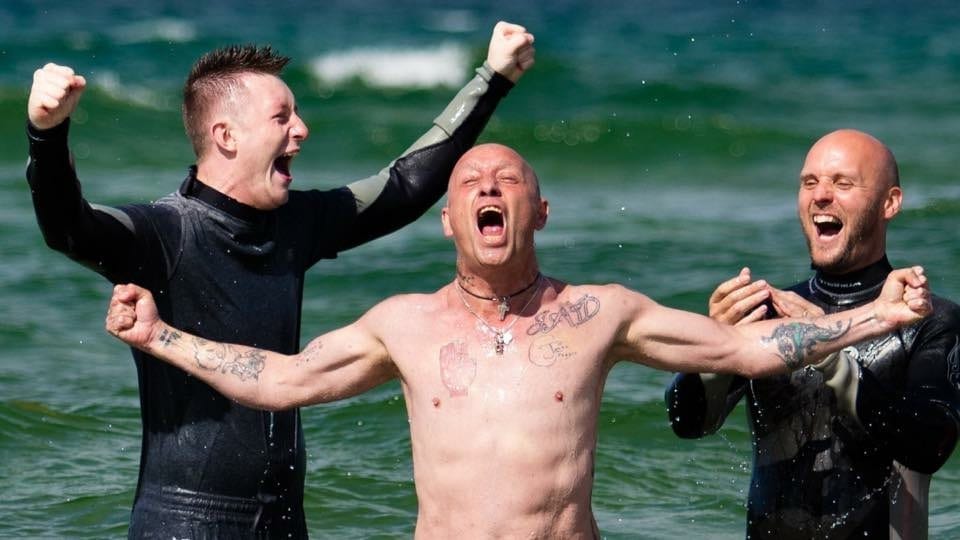 Four days later I went to see Scott on the streets and asked him' "teach me to do what you do"?. I instantly had a thirst for more despite not knowing what that more was.
I spent every day of the next 18 months by Scott's side. Voluntarily giving of my days to stand with him on the street doing the work of an evangelist.
I was able to let go of the hate I had for people of other races and the Lord actually gave me a passion to love them and reach them, especially Muslims. While on a trip with Scott to Nottingham England I got to lead a man named Mohammad to the Lord.
I completed a certified Bible college evangelism course that I attended in Belfast each week.
Scott baptised five of my family. myself, my wife Janet, my son Neil Junior, our daughter Tanya, and Tanya's boyfriend who became her husband after Scott married them at our Church.
In Feb 2020 I went to South Africa with Scott to train the Churches there in Jesus at the door.
Janet
I was brought up with Jesus in my life up till about the age of 11 then everything changed as my life was a mess. I found out my Dad wasn't my biological father so I went and found him but he wasn't good.
I then met a man and ran away from home and moved in with him, my Mum got the police out looking for me after no contact with my parents for 6 months. So I called them to let them know I was safe. The man was 26 years older than me but had children together, I was a mess and not happy. In 1994 I had my last child, the last of 6 children. He also had two sons to a previous marriage. My youngest daughter was born on the 15th of January 1994 and died in May 1994, she was murdered by my stepson. That's when any faith I had was lost. I said there can't be a God if there was why would he let this happen. I was very angry and grieved until I met Scott McNamara in Coleraine one afternoon.
He approached me and my son and daughter and shared the Jesus at the door card with us.
He also said the Lord is telling me you're a broken woman and he knows what you're going through and he is with you and everything will be ok. All this happened on Mother's Day so the pain was very raw, all I could think about was another year without her. I then ran off up the street crying, then Scott came after me tapped me on the shoulder and I asked him how he knew that about me.
I then gave my life back to Jesus right there on the street, it felt like a whole weight had been lifted off my shoulders. I immediately started going along to Scott's New Believers group and also to Church on Sunday's with my son and daughter.
I love Jesus more than anything, I volunteer regularly at my Church food bank. I run the Church stall at the car-boot sale.
This year I went on a mission trip to Greece to be the hands and feet of Jesus working in the refuse camps. I don't have a life if I don't have Jesus. I love him so much.
---